The 8th Annual President's/Ryder Cup
Fall Oak Hollow Open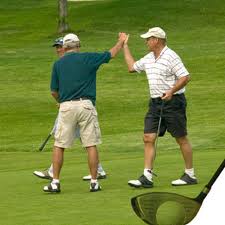 September 21 & 22, 2019
This will be a 36 Hole, two person team event playing Captain's Choice Style (Catfight).
**8:00 AM Shotgun Start Both Days**
First Round Pairings    September 21, 2019
1A   Darin Bell-Colton Sapp, Bryan Colquitt-Marc Cox
1B   Don Goins-Darryl Parker, Jimmy Tilley-Gary Flowers
2A   Hugh Mespelt-Vince Mespelt, Lee Hendrix-Morgan Arnder
2B   David Cichowski-Mike Baxter, Mike Christley-Bob Williams
3A   Tommy Nix-Eddie Nix, Andy Wilson-Donnie Maness
3B   Brett Hagmann-Bob Hagmann, Steve Nowack-Jack Caviness
4A   Brett Lindquist-Kevin Lindquist, Bill Livingston-Travis McLemore
5A   Buck Hall-Rodney Thomas, Rick Briley-Brad Coleman
5B   Billy Smith-Nate Smith, Mike Gardner-Marvin Miller
6A   Brian Holt-Jonathan Holt, Eric Shoemaker-Travis Shoemaker
6B   Jim Williams-Mark Hartson, Doug Vick-Dean Trisdale
7A   Wes Tyner-Jeremy Walley, Andy Younts-Jess Younts
8A   Faron Skeen-Starr Gilley, Ty Niday-Steve Niday
9A   John Vanleuvan-Edward Owenby, Mark McNeil-Dave Gilstrap
9B   Ken Rush-Brice Rush, Ermon Rush-Harold Rush
10A   Travis Hundley-Ray Hundley, Dustin Gaster-Eric Maness
10B   Brian Carter-Heath Swaim, Vincent Avere-Dan Rawfon
11A   Cody Hill- Chris Diluzio, Lee Edwards-Rodney Hill
11B   Thomas Kefalas-Scott Hall, W. E. Heasley-Berry Whitesell
12A   Shane Whitman-Derrick Thompson, Ted Weant-Brian Ritchie
12B   Pete Hammett-Chad Hammett, Dwayne Cooke-Zeke Eaton
13A   Blake Stiegmann-Clinton Harrison, Tim Hoover-Chad Shields
14A   Daniel Mureness-Brenda Mureness, William Butler-Tim McMasters
14B   Sam Patterson-Johnny Hopkins, Brant Stovall-Jamie Gilley
15A   Homer Waters-Lex Neang, Trip Walker-Jay Curtis
15B   Dale Slate-Herb Whitesell, Pete Philo-Chris Zetkowski
16A   Connor Davidson-William Walker, Roy Andrews-Rick Clanton
17A   Frank Thompson-Chris Thompson, John Duplisea-David Duplisea
17B   Donnie Brown-Richard Hartley, Ben Spell-Rodney Kirby
18A   Ed Johnson-Bi Lambeth, Steven Green-Ryan Green
18B   Don Mills-Chris Clement, Ricky Zachary-Andy Ruth
The field will be flighted after the first round.
Entries are open to all amateur golfers 16 years of age or older.
Entries are subject to approval or rejection by the Tournament Committee.
Open to the First 60 Teams.
Additional events and information this year!
Seniors (Age 55 years of age and older) will play from the white tees.
Par 3 Challenge-Closest to the pin on all par three's both days
Over $6,000 in Prizes
and Gift Certificates
Gift Certificates will be awarded to the Five Top Teams in each flight. Prize distribution will be as follows, based on a full field:
1st Place Team     $800.00
2nd Place Team    $400.00
3rd Place Team    $300.00
4th Place Team    $200.00
5th Place Team    $100.00
The President's Cup Kickoff Challenge
Half the field will compete as the United States Team and half the field will compete as the International Team on Saturday for a special President's Cup Kickoff Challenge. Free President's Cup Item to each participant.
If you would like to pay by credit card, please call the pro shop and provide card information. To pay by check, print entry form below and send in or drop it by the pro shop with payment.
Click Here for the 2019 Oak Hollow Open Entry Form