The City of High Point is pleased to be associated with not fewer than five (5) separate Golf Associations that help promote the game of golf over our two fine golf courses.
Each of these fine associations helps meet the needs of their members in promoting tournaments, activities and community projects that advance the game of golf. Many of them are involved in bringing new golfers into the game and all recognize their role in helping promote junior golf in the area.
These associations are open to the public and welcome new members each year. We encourage everyone to become involved with the group that best fits your needs and together we will continue to strive together to grow the game of golf in High Point.
For more information, please contact these associations today:
High Point Golf Association
P.O. Box 1205
High Point, NC 27261
Oak Hollow Ladies Golf Association
3400 N. Centennial Street
High Point, NC 27265
High Point Golf Swingers
P.O. Box 1492
High Point, NC 2726
Looking for a game, tired of playing with the same group, maybe you need a little competition or you just want a chance to network some with other golfers. Whatever your reason, look no further, come and join the Oak Hollow Golf Association. 
To join come by Oak Hollow Golf Course to pick up an application for the Oak Hollow Golf Association Membership Application, fill the form out, and either mail the form with your payment to the address given or turn it in at Oak Hollow Golf Course.
As a member of the association, you can join our group every Saturday morning for a gang some event. Tee times start at 8:56 for the months of October thru April, and 8:00 for the months of May thru September. In order to sign up for the gang some, you must call the golf course by the Wednesday before the event and have the staff add your name to the list for that week. If you wait to call after Wednesday, the gang some will be subject to availability. The number to call is 336-883-3260.
The association holds a tournament every month, with each having a fun and enjoyable format. A link will be available soon with a complete listing of the 2018 OHGA Calendar. As a member of the OHGA, you can sign up for a tournament by simply emailing ddantzler@triad.rr.com and let Allen know you would like to participate in an upcoming event. Don't forget to put your name in the email, and for the Member-Member event who you are playing partner will be.
If you don't get a chance to post your score at the course, you always have the option of posting it from home, the office or your Smartphone. Just go directly to the Carolinas Golf Association Website, register, post the score and we will take care of the rest. If you are a returning user to their site click on this link, MyCGA Login/Post Scores and look for this heading on the top right of the site. If you have trouble doing either of the following, click here.
The Oak Hollow Golf Association would also like to thank all members for your continued support of junior golf in High Point.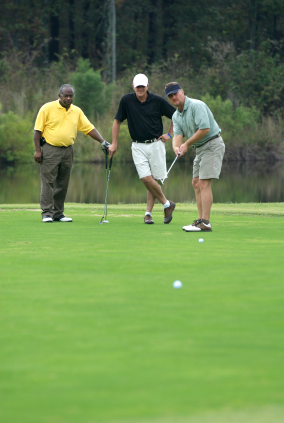 CALENDAR Varies with Golf Course Rotation
Call Blair Park Golf Course for up to date information
All Mondays: River Landing at Sandy Ridge
All Fridays: Blair Park Golf Course
First Wedneday of Each Month: Oak Hollow Golf Course
Second Wednesday of Each Month: Olde Homeplace Golf Course
Third Wednesday of Each Month: Holly Ridge Golf Links
Fourth Wednesday of Each Month: Reynolds Park Golf Course
Fifth Wednesday of Each Month: TBD
TEE TIMES
Shotgun Start at 10:00 AM from Late October until  Early March
Shotgun Start at 9:00 AM from Early March until Late October
SPECIAL EVENTS
Club Championship
Held at Blair Park Golf Course
Annual Banquet
Turkey Day
Call Blair Park Golf Course
Officers and Directors
Click Here for Rules of Play