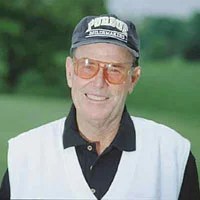 Pete Dye is with out a doubt the most famous golf course architect alive today. His reputation is that of a creative genius and of being one the most imaginative course designers in the world. His reviewers also think of him as the most diabolical, and even sadistic course designers of all time.
Nevertheless, his courses have been the sight of numerous major championships and countless professional tour stops for over 30 years. Just a few of his most famous designs include:
The TPC at Sawgrass – Stadium Course, Ponte Vedra, FL. (1981)
Ocean Course – Kiawah Island, SC (1991)
Crooked Stick – Carmel, IN (1966)
Harbor Town Golf Links, Hilton Head, SC (1969)
Oak Tree, Edmond, OK (1976)
PGA West, La Quinta, CA (1986)
And our course: Oak Hollow GC, High Point, NC (1972)
Pete Dye was born December 29, 1925 in Urbana, Ohio. He majored in Business at Rollins College and was married in 1950 to Alice O'Neal, the lead golfer on the Ladies Golf Team at Rollins. After several years of working in a successful insurance practice, he turned his attention to golf course design.
In 1963, He and Alice took a month long tour of some of the classic Scottish venues. The trip turned out to be an epiphany for him. At Prestwick, or example, he saw railroad ties shoring up bunkers and smallish greens everywhere he turned. Tiny pot bunkers, sprawling natural waste areas were all a great influence on where Pete would take his creations in the future.
Here at Oak Hollow, which opened in 1972, we are fortunate to have many of these unique characteristics. Railroad ties, pot bunkers, several peninsula greens and even an island tee make up a bevy of Pete Dye design features. However our small, undulating greens serve as our most recognizable Dye trademark.