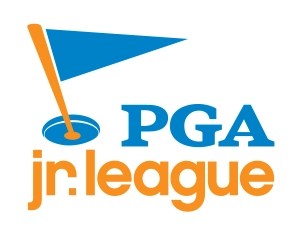 Welcome to the Oak Hollow PGA Junior League
The last two seasons have been wonderful and 2023 brings a new of excitement to Oak Hollow Golf Course. Therefore, we are joining the over 6,000 plus teams that participated in the PGA Junior League last season by bringing the program to our course.
PGA Jr. league is designed to bring a "Little League" atmosphere to the game of golf. It provides a structured league environment for young golfers to compete and have FUN!
This is a great way to get, and keep, kids involved in the game.
PGA Jr. League is shifting the perception of youth golf and the way the game is learned and played. The program brings family and friends together around fun, team golf experiences with expert coaching and instruction from PGA Professionals. It's a game changer! We are excited to offer the PGA Junior League at Oak Hollow Golf Course!
Oak Hollow's PGA Jr. League program is open to boys and girls ages 13 and under of all skill levels – no golf experience required! We will be continuing to build our 17 and under team for 2023 which is also open to all boys and girls. Kids will learn the game and enjoy relaxed competition in a two-person scramble format that encourages mentorship, builds confidence and teaches sportsmanship.
Click here to learn what the PGA Jr. League is about.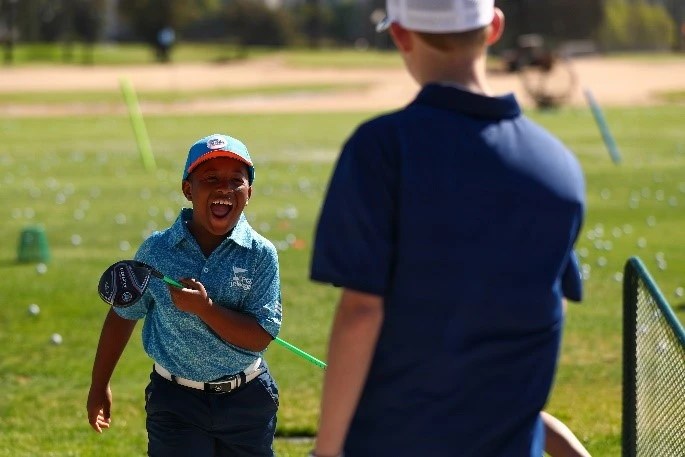 Safety is our Number 1 Priority
Things are a little different. Safety is our main goal. We will follow social distancing guidelines closely and have an 8-1 instructor ratio to spread out the junior golfers.
Last June, in response to the COVID-19 pandemic, PGA Junior League released its 2021 Program Guidelines. Under the guidance of medical advisors and in alignment with the Centers for Disease Control (CDC), our intent is to conduct the program in the most responsible manner possible. Our facility continues to abide by guidelines put forth by local and state health authorities. COVID-19 concerns prompt us to want an in-house league. Our captains would love to have our junior league teams play against each other here at Oak Hollow Golf Course.
What does it cost?
The program fee is for PGA Jr. League at Oak Hollow Golf Course is $274.
$99 Annual PGA Reach fee is due upon registration online through the PGA Portal. The PGA Reach Fee covers both the Spring and Fall Season, but you have to register each season separately. The Coach's fee is $180 and should be paid to the player's captain per season.
Scholarships
The PGA of America, along with Dick's Sporting Good are making scholarship available for those that need some assistance. If golf clubs are needed, Oak Hollow will provide golf clubs to our participants.
What do I receive?
Each PGA Jr. League participant will receive:
Custom Uniforms and Team Kits
Digital Center with Fun Games and Events
Opportunities from Partners and Sponsors
Team practices and a Junior League Free Range Ball Pass for participants for the Spring League Season
Spring regular season matches
***Picture of the New Team uniforms and Kits will be added when it is released***
Program Structure
Fun and recreational 2-player scramble format for players 17 and under of all skill levels
Advanced skills are not required
If your child can drive, chip or putt….we have a role for them on our JLG team
All participates get to play in every competition they attend
Ideal team make up is four novices, four average and four above average players
Participants wear numbered jerseys and play on teams with their friends versus individual competition 
Each team is captained by a PGA Professional, who serves as the coach 
Teams play five nine-hole matches in a popular two-person scramble format, reinforcing the team 
Coaches substitute players every three holes to ensure all the golfers can participate
Click Here for 13U Fall Registration
Click Here for 17U Registration
Click to meet The PGA Jr. League Ambassadors
Click Here for the 2023 Fall Schedule for 13 and Under
The registration deadline for our 13 and Under Fall Season is Tuesday, September 5.
Our parent's meeting/orientation and season kickoff event will be Monday, August 28 from 5:30PM-6:30PM. 
Practices will be either @ 4:30PM or @ 5:45PM on Thursdays. The sessions will be approximately 1 hour 15 minutes.
All Games will be 9 holes on Sundays. All Games will start @ 3:00pm.
| | |
| --- | --- |
| Practices | Games |
| September 7 | Sunday, September 24 |
| September 14 | Saturday, October 1 |
| September 21 | Saturday, October 8 |
| September 28 | Sunday, October 15 |
| October 5 | Sunday, October 22* |
| October 12 |   |
*Game Five will include the Family Cup and the End of the Season Celebration.

Postseason Information for 2024 Spring League
The Carolinas 13U & 17U PGA Jr. League Postseason Qualifier and Championship will be free to attend!
We will post this schedule as soon as it becomes available.
Click Here for the 2024 Spring Practice Schedule for 17 and Under (Game times TBD)
Our parent's meeting/orientation will be Monday, March 11 from 5:30PM-6:30PM. Next year's season kickoff party for our 13 and Under Spring Season will be on Saturday, March 30 from 10:30AM -12:00PM.
Our registration deadline for the 17 and Under Spring Season will be on Saturday, April 20.
Practices will be @5:30PM on Tuesday afternoons.
All Games will be 9 holes but TBD. All Games will start @ 3:00pm.
How Can I Help?
You can get involved with our PGA Junior League by volunteering as an:
Assistant Coach
Team Coordinator
Photographer
Social Media/Promotion
Let us know how you would like to be a part of these great programs
Click here to meet Our PGA Professional and Jr. League Staff.
Don't miss out, Sign up Today!
Click here to register for our team today –OR– contact either our of our PGA Jr. League Captains.