Our grillroom staff would like to take this opportunity to thank our customers, and to let you know that we look forward to serving you each and every time you visit our complex. Our staff prides ourselves on providing friendly customer service, a clean environment to eat, and good quality food.
We also work closely with the golf shop staff to make sure your group outing or tournament is a success. We're here to help arrange whatever experience you're aiming for. During the months of April thru October we run a beverage cart on the course to serve our golfers while they play. We look forward to seeing you when you're here to play golf, or if you're just stopping by for breakfast or lunch.
Let us enhance your tournament outing by providing your guests either Breakfast or Boxed Lunches. We offer a simple Continental Breakfast and four Boxed Lunches to meet your guests needs.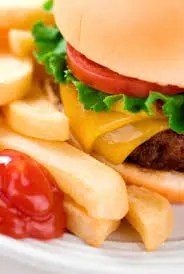 Grillroom Menu Items
Breakfast Items
Sandwiches
Sausage, Bacon, Egg, Sausage and
Egg, Bacon and Egg
Lunch Items
Hot and Cold Sandwiches, plus Specialty Items
Double Cheeseburger, Cheeseburger, Hamburger, Chicken Fillet, Bologna, Turkey, Chicken Salad, Egg Salad, BLT, Hot Dog, Grilled Cheese
Additional Items
French Fries, Fruit, Chips, Candy, Crackers, Honey buns
Seasonal Items
Pinto Beans, Soup
Beverages
Pepsi products, Coffee, Tea, Hot Chocolate, GatorAide, Bottle Water,
Bottle Juice, Canned Beer
Hosting an Outing!!!!!
Click Here for more details on how our grill can meet your needs