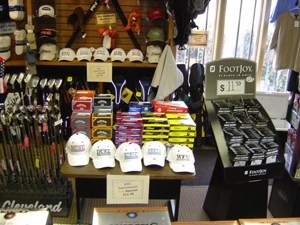 Come by the Pro Shop at Oak Hollow Golf Course for all your golf essentials. Our large Pro Shop features all the necessities you'll need for your round plus apparel, clubs, accessories, and so much more.
We really are a one-stop shop for everything golf. And don't forget that much of what you find at the Oak Hollow Pro Shop can also be found in our On line Store, including Gift Certificates!
Pro Shop Opens at 7:00 a.m.
Welcome to the Oak Hollow Golf Academy
Book your individual lessons by calling or emailing one of our PGA Professionals today.
Oak Hollow Golf Academy is now a Branded Academy by V1 which allows us to instantly deliver V1 lessons to our students' computers, Smartphones (iPhones, Blackberry and others) and Facebook™ pages where they can be easily shared and seen by their friends and family.
Personal Online Lockers & Automated Emails
The first-time a Branded Academy lesson is sent to our students, a personalized online locker is instantly created for them. Every time a lesson is transmitted; a customized automated email is delivered notifying them a V1 lesson from us is available for their viewing. A link back to our Branded Academy is provided, along with their username and password so they can easily access and view their lesson anytime they want.
Please click on logo to visit website.