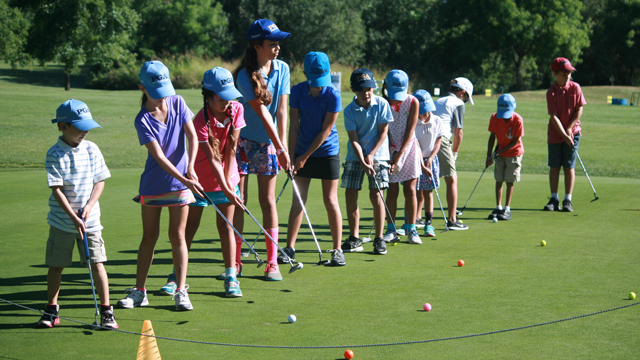 This isn't just any Golf Camp,
it's the PGA Junior Golf Camp!
Nothing is quite like a PGA Junior Golf Camp when it comes to learning the game of golf. Here, it's about two things—golf and fun. Our friendly, certified PGA of America Golf professionals provide a supportive and safe environment for your children to improve their golf game. We teach golf's traditions, it's techniques all why letting your kids be kids.
Learn from the Leaders


All PGA Junior Golf Camps are Directed by Certified PGA of America Professionals.
To be the best, you must learn from the best. That's why every junior golf camp instructor has been trained and tested in all aspects of the game by the PGA of America. Each PGA Junior Golf Camp Director has been certified in junior-specific instruction, techniques, and strategies. They understand the most effective ways to approach each lesson, helping to ensure each student gets the most out of every training session.
Inspiring to Improve
Practice makes perfect. And with the PGA Junior Golf Camp's Skill Progression Cycle, helping your child become a better golfer just got a little easier. Our patented system builds upon the previous days' teachings and helps students improve. After a skill progresses past a certain level, each student is acknowledged with a special achievement medallion, which only adds to the excitement and fun of practicing the great game of golf.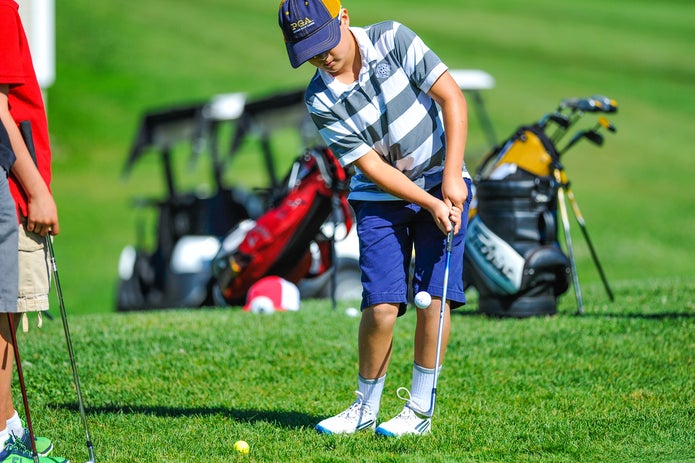 Our Philosophy — and Our Promise
The PGA Junior Golf Camps is a golf enrichment program designed exclusively for the development of the junior golfer. Our camps welcome boys and girls of all athletic abilities, golf experience, and competitive desire. We accept all children, from those with professional aspirations to collegiate scholarship goals. Even those that want to simply learn how to play a round with mom or dad, each child enrolled in our camps is warmly and sincerely welcomed.
As the golf enthusiasts who run and operate the PGA Junior Golf Camps, our mission is to share our passion for the great game of golf with youths across the country. Our promise to you–is to support, encourage, and respect each and every one of our campers. We will authentically inspire them to reach their full potential, both on and off the golf course.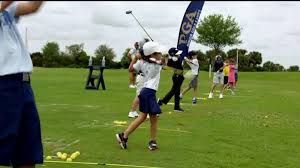 Full and Half Day PGA Junior Golf Camps

June 21 – 25, 2021
9:00am – 4:00pm (Full-Day)
9:00am – 12:00pm (Half-Day)

July 19 – 23, 2021
9:00am – 4:00pm (Full-Day)
9:00am – 12:00pm (Half-Day)

August 9 – 13,  2021
9:00am – 4:00pm (Full-Day)
9:00am – 12:00pm (Half-Day)

Click Here for 2021 Registration 


2021 Junior Players Golf Academy Schedule
---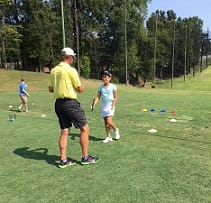 March 29 – May 17, 2021 
Spring First Tee of the Triad at Oak Hollow Golf Academy
Player Level

4:30-6:00
Mondays
March 30 – May 18, 2021 
Spring First Tee of the Triad at Oak Hollow Golf Academy
Par Level


4:30-6:00
Tuesdays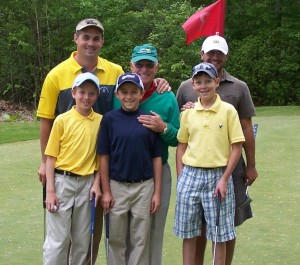 June 19, 2021 
The 34th Annual Parent-Junior Championship
A new date, time, price and format to this annual event enjoyed by many parents and their children through the years. Our entry fee for this year's championship will include the green and cart fee for both participants. Other  items that will be included are a pizza party, awards and free range balls for all contestants.
2021 Parent-Junior Application
$40.00 per team for Junior and Sub-Junior Divisions/$50.00 per team for Regular Division


Parent-Junior Championship Final Results

 

Saturday, June 19

 
 
 
 
 
 

Sub-Junior Division  Ages 13 and Under

Gross Score

 

Jason Cogdill

Hampton Cogdill

32

1st Place

Rob Hart

Reece Hart

36

2nd Place

Eddie Isley

Cameron Isley

36

 

Bob Eddy

Logan Eddy

37

3rd Place

Nicholas Pfeifer

Avery Pfeifer

38

 

John Effa

Jack Effa

38

 

Martin Foriska

Noah Foriska

41

 

Jason Geisler

Troy Geisler

42

 

Chris Simmons

Mason Simmons

44

 

Dennis Wesney

Will Wesney

46

 
 
 
 
 

Junior Division Ages 14 – 18

 
 

Brad Mecham

Sadie Mecham

30

1st Place

Jimmy Bayne

Joshua Bayne

31

 

Chip Skeen

Michael Skeen

37

2nd place

Rodney Perdue

Katherine Perdue

44

 
 
 
 
 

Regular Division Ages 19 and over

 
 

David Hodges

Colin Hodges

36

1st Place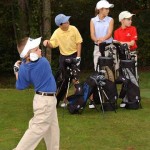 July 14
CGA Dogwood State Junior Boy's Qualifying
Blair Park Golf Course

July 14-15
TYGA The High Point Junior Open
Blair Park Golf Course – First Round July 14 
Oak Hollow Golf Course – Final Round July 15
This event will be ran by the Carolina Golf Association staff.


August 23 – October 11, 2021
Fall First Tee of the Triad at Oak Hollow Golf Academy
Player Level
4:30-6:00
Mondays
August 24 – October 12, 2021
Fall First Tee of the Triad at Oak Hollow Golf Academy
Par Level
4:30-6:00Tuesdays


Comments on previous PGA Junior Camps
My son loved the school and really enjoys working with you. -David
Our child really enjoyed your golf camp. I appreciate you taking the time to share with me his evaluation info. It'll give me something to work on with him. -Jerry
Thank you very much Jimmy. My granddaughter really enjoyed the camp! -Jim


Click link to brochure below for Junior Lesson Pricing
Oak Hollow Golf Academy Brochure


Gift Certificates for all Individual Lessons and Group Instructions are available at the Oak Hollow Golf Shop.  Visit us today!